June 23, 2020 - ROBUSTA-1B celebrated 3 years in orbit
Launched into orbit on June 23, 2017, Robusta-1B has circled the Earth 17,520 times.
It was received 17,600 times by radio amateurs, survived a dozen solar flares, transmitted 2 MB of scientific data on the effect of radiations on electronic components.
Due to the atmospheric drag, its orbit descended by about 5 km. It is currently 505 km above sea level and is expected to remain in orbit for another two years.
During this period, the Sun should be more active after reaching the minimum activity in its 11-year cycle in 2020.
The impact of solar activity on electronic components is nevertheless directly visible on the data transmitted over the past three years by Robusta-1B and which are currently being analyzed by researchers from the University of Montpellier and ONERA in Toulouse.
By the end of the year, Robusta-1B will be joined in orbit by MTCUBE-2 and CELESTA which, thanks to their orbit 12 times higher, will measure radiation and their effects in the Van Allen belts.
Robusta-1B was funded by the Van Allen Foundation and CNES as part of the JANUS project.
January 2020 - CSUM in Djibouti
From left to right on the photo: Dr Djama Mohamed Hassan, President of the University of Djibouti, Dr Nabil Mohamed Ahmed, Minister of Higher Education and Research, HE Sir Ismaïl Omar Guelleh, President of the Republic of Djibouti, Dr. Mohamed Jalludin, Managing Director of CERD, Dr. Aboubaker Hassan, Secretary-General of MENSUR, Laurent Dusseau, Director of CSUM.
Mid-January Laurent was invited to Djibouti by Dr Nabil Mohamed Ahmed, Djibouti's Minister of Higher Education and Research. After two days of preparatory work at MENSUR and several interviews with the heads of various education and research institutions of the country, Laurent met HE Sir Ismaïl Omar Guelleh, the President of the Republic of Djibouti, and submitted him a collaboration project that the head of state received with enthusiasm. Montpellier University will soon train the future executives of Djibouti's Space Agency who will build their first nanosatellite at CSUM!
For more information: http://www.mensur.gov.dj
2019
4/12/2019 - Visit of a ministerial delegation from Djibouti
Monsieur Nabil Lahgui, Ministre de l'Enseignement Supérieur et de la Recherche de Djibouti, accompagné de Mme Frédérique Aberlenc, Responsable Equipe F2F au Centre IRD (Institut de Recherche pour le Développement) de Montpellier et de Monsieur Mohamed Jalludin, Directeur Général du CERD, le Centre d'Etudes et de Recherche de Djibouti, ont visité le CSUM ce mardi 3 décembre.
Il a été question de formation et de partenariat autour des nanosatellites. A suivre !
© Véronique Ribière
On Friday July 5th, CSUM received a delegation from Senegal comprised of Dr Cheikh Oumar Anne, the Minister of Higher Education, Research and Innovation and other Cabinet members. They were accompanied by P. Augé, the President of Montpellier University and S. Pravossoudovitch, the Director of Polytech Montpellier. ArianeGroup develops turnkey facilities allowing to assemble, integrate and test satellites.
Senegal wishes to acquire one of these facilities and has offered CSUM and the University of Montpellier to share their expertise with Senegalese teams and build one or more nanosatellites in common either in Montpellier or in Dakar. Such a partnership could announce the beginning of other collaborations with African countries such as Cameroon or Ethiopia.
Pack up CSUM team!
Read the press release (french)
5/7/2019 - MTCube lift-off
13/5/2019 - Last mechanical tests for MTCube
At the beginning of May, Xavier and Romain were at the ExoLaunch premises in Berlin to do the mechanical qualification and fit check of MTCube prior to its launch in June 2019. MTCube went through intense vibrations and shock stimulations and between the tests, the team performed basic electrical checks to make sure no part had come loose. All of us at CSU Montpellier would like to thank Exolaunch, providing launch services for MTCube, for their warm welcome and professionalism.
Xavier and Romain then went to Paris for the thermal tests as part of a collaboration with the University of Versailles Saint-Quentin-en-Yvelines. During the thermal tests carried out in February, some bugs had emerged. This new test sequence has enabled the team to validate the corrections made since then.
MTCube is readier that ever for launch!
9/4/2019 - Presentation of the ITU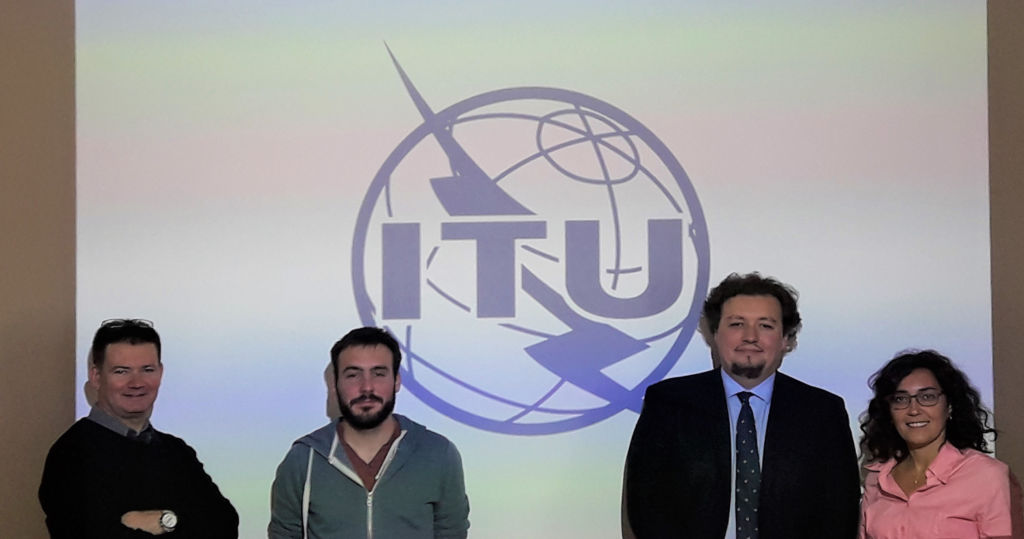 On 9th April, we had the visit of Mr Alexandre Vallet, the Head of Space Services at ITU (the Internationnal Telecommunication Union).
He reviewed the procedures pending the frequency assignments of MTCube, CELESTA and ROBUSTA-3A and gave us an OK. We are very grateful for ITU's help in these matters!
29/3/2019 - Hot and cold for MTCube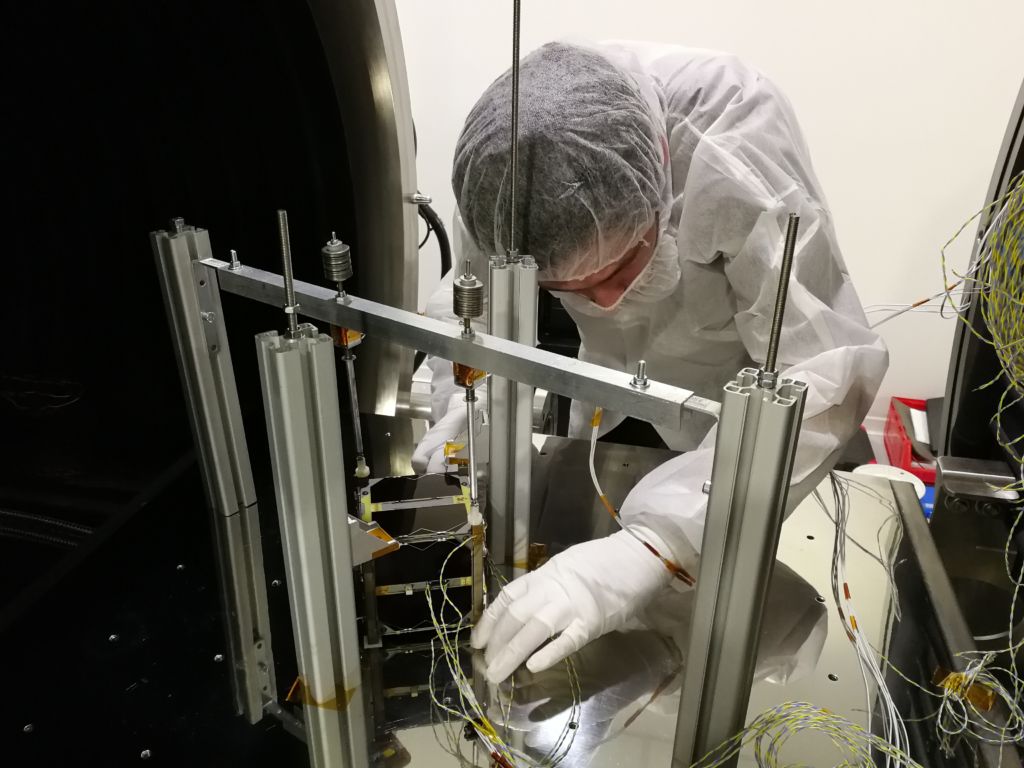 For the first time the thermal vacuum tests of one of our satellites took place, literally, downstairs! In the TVAC operated by Airbus and located on the ground floor of the CSUM building.
The tests took place in February and have confirmed that MTCube remains operational in harsher vacuum and thermal conditions than in space. The antennas deployed properly thanks to optimum battery performance. Our tests procedures have gained in efficiency therefore thermal tests should take less time in the future. The few remaining anomalies on MTCube are presently being investigated and corrected.
The next step will be the vibration tests in May before launch from Vostotchny spaceport in June. We'll keep you posted!
18/1/2019 - MTCube is integrated!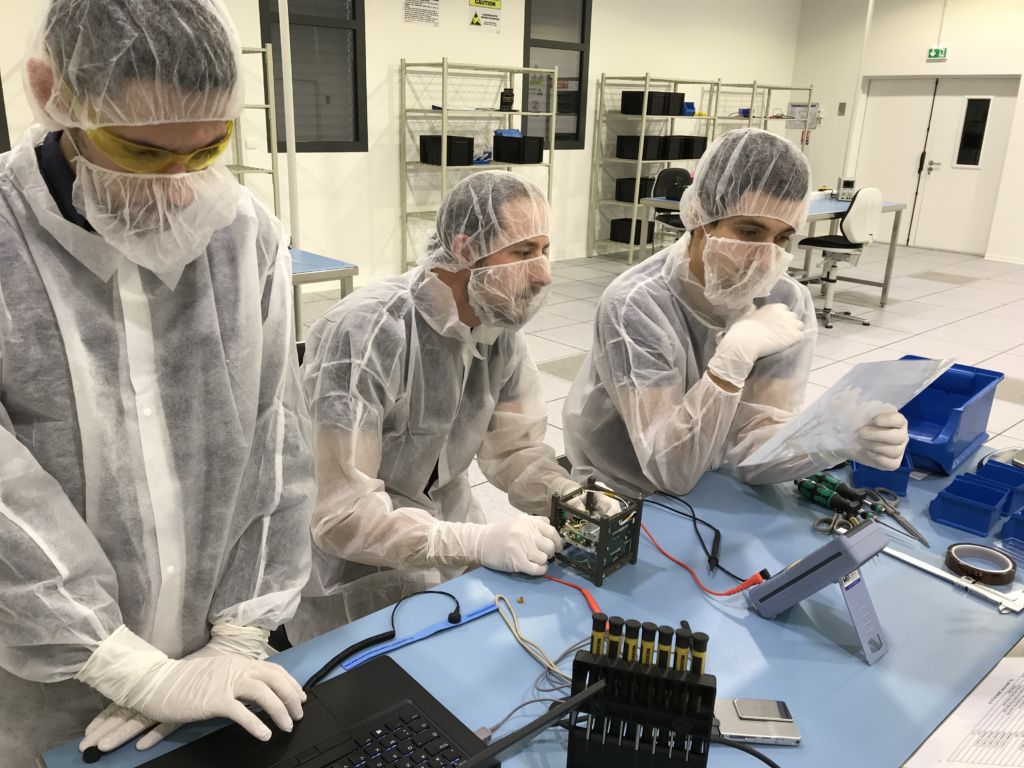 The integration was carried out by Romain Briand, Sebastien Hesse and Laélien Rivière from 13/12/2018 to 16/01/2019 in the CSU clean room. Laélien was in charge of the functional tests which have not all be completed yet. A malfunction on a temperature sensor slowed down the process but after some troubleshooting the team successfully solved the problem.
MTCube will now undergo a series of environmental tests (vibrations, thermal vacuum) which will, for the first time, be carried out in Montpellier! Our thermal vacuum chamber sits on the ground floor of the CSU building and we will use a vibrating table lent by the LMGC, the University of Montpellier's Laboratory of Mechanics and Civil Engineering, whom we thank for their help.
2018
29/10/2018 - The CSU welcomes Yann Barbaux, the President of Aerospace Valley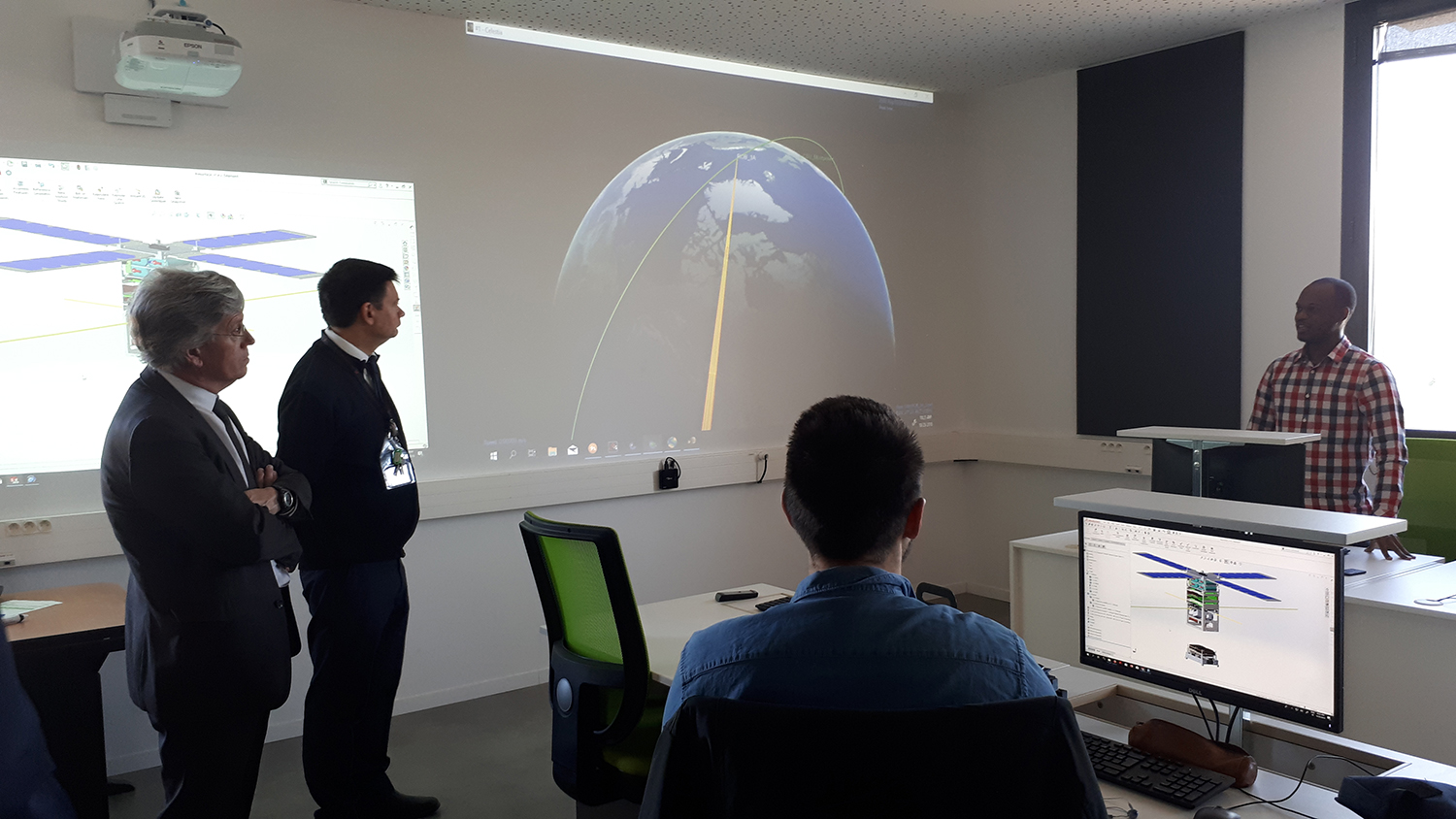 On 29th October 2018, CSU was happy to receive Yann Barbaux, the new President of Aerospace Valley. Created in 2005, Aerospace Valley is the most significant innovation cluster in France in the fields of aeronautics, space and embedded systems. Counting over 840 members from both the industry and the academia, Aerospace Valley represents around 1/3 of the French aerospace workforce. Their aim is to stimulate employment and innovation by fostering local and regional competencies in technical and economic areas.
Mr Barbaux met Laurent Dusseau, the Director of the CSU, and Frederic Saigné, the Director of the Van Allen Foundation and was given a tour of our premises. He noticed the vitality of our projects and the strong involvement of our teams and suggested increasing our cooperation around new projects.
25/7/2018 - CELESTA irradiated!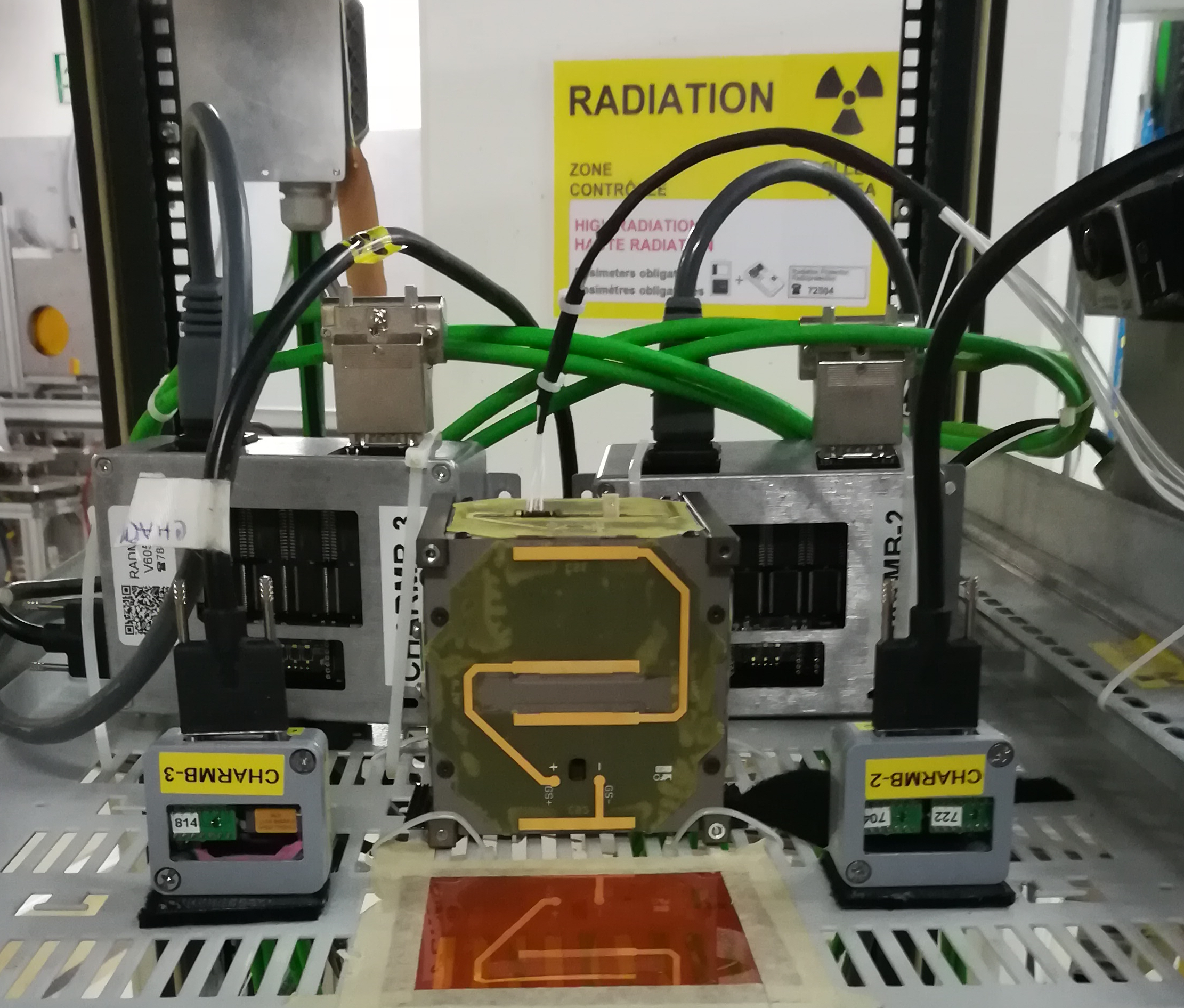 The irradiation model of CELESTA has just spent one week in the irradiation chamber of the CHARM facility of CERN in Geneva. CELESTA's payload is a miniaturized version of CERN's radiation monitor or RADMON which will be implemented at CHARM once qualified in orbit.
During the 6 first days the satellite was submitted to radiation levels equivalent to those expected in space, during the last day the shielding was removed to test the tolerance of the platform to high particle flows. CELESTA worked reliably until the end of the test and demonstrated its ability to manage radiation induced errors autonomously. The 1U platform common to CELESTA and MTCube is thus one step closer to validation.
The tests were conducted by Thierry Fiol and Joël Durand from Nimes Polytechnic as well as Laélien Rivière, Master's student and intern with us.
16/6/2018 - CSU at the Toulouse Space Show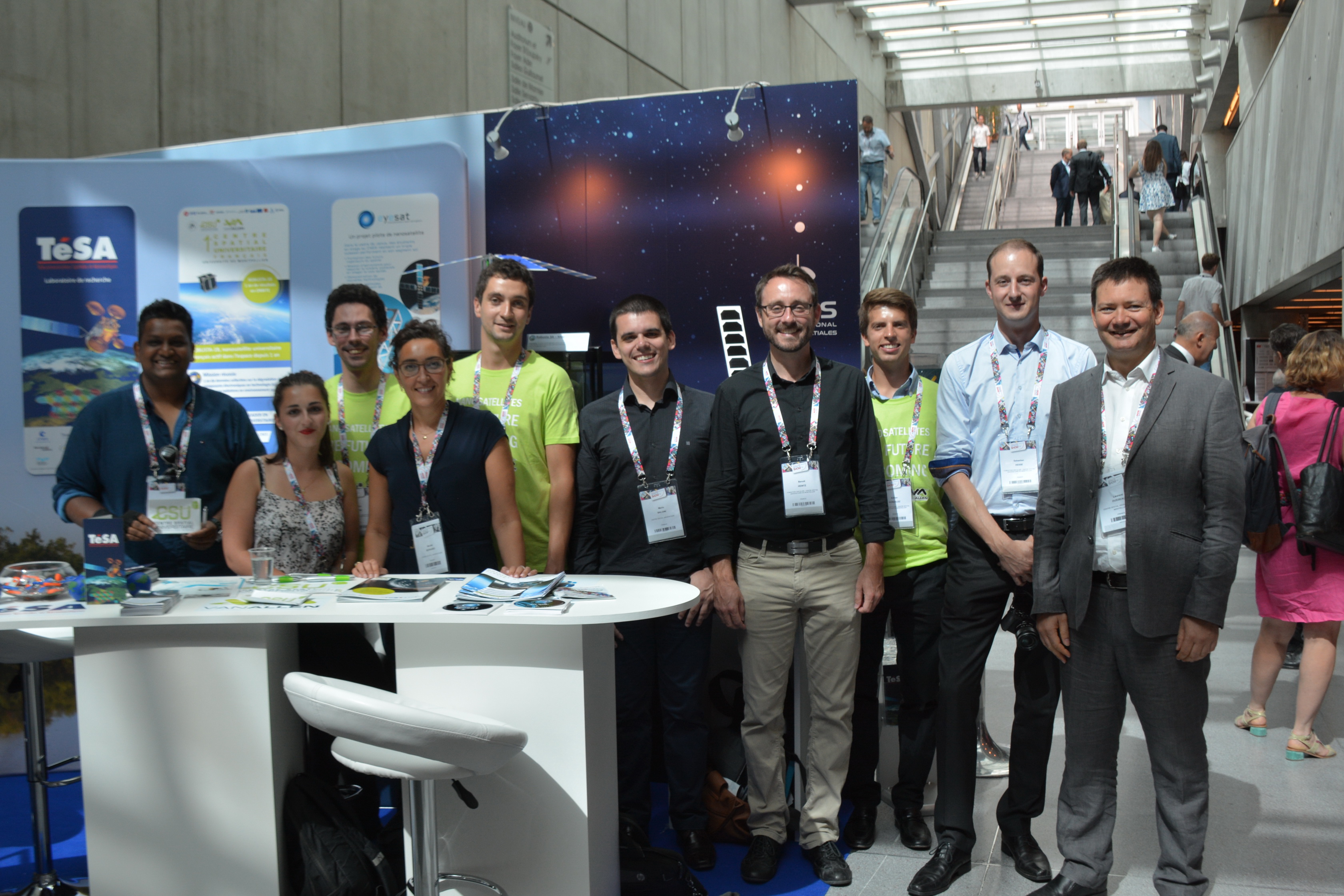 Hosted by CNES (the French space agency) on their stand, CSU took part in the Toulouse Space Show from 26th to 28th June. The show is an important meeting point for the space sector industrialists of 46 countries.  On the stand our students were always ready to answer questions and  build up new contacts. Muriel represented us during the launch of the Interreg SUDOE program (https://www.interreg-sudoe.eu/gbr/home). This program encourages international collaboration around nanosatellites projects between countries of South Europe. CSU will lead a work group involving Spanish, Portugese and French universities. We were also happy to welcome a new founding member within the Van Allen Foundation, the Assystem company which specializes in energy and digital solutions.
19/6/2018 - ROBUSTA-1B, 1 year in space!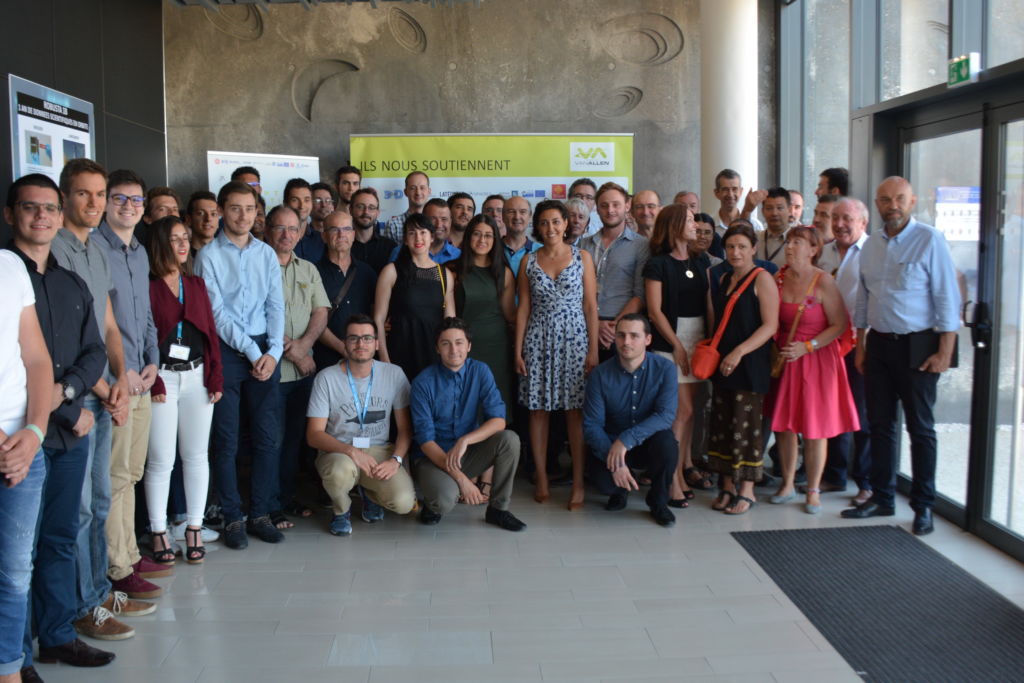 Happy anniversary ROBUSTA-1B!!!
All our friends, supports and students gathered at the CSU on 19th June to celebrate R1B's first year in orbit and share a cake bearing the mission logo. After one year in space ROBUSTA is still sending some valuable scientific data without giving any sign of weakness.
5/4/2018 - Astronaut Thomas Pesquet invited to Montpellier by the Van Allen Foundation!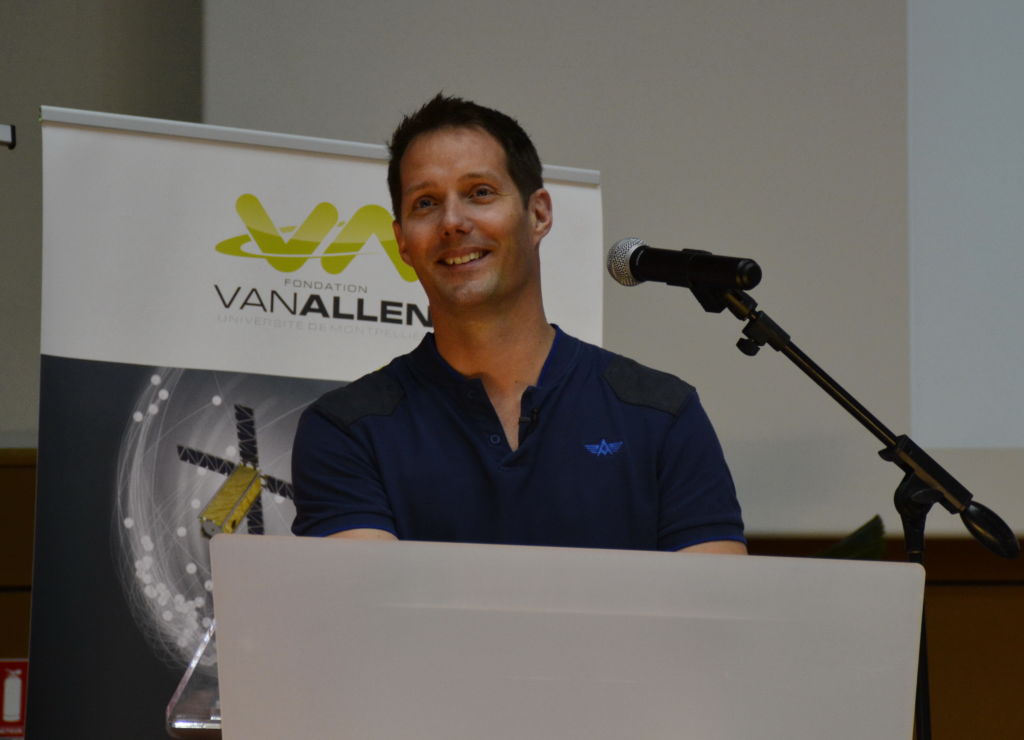 Astrophysicist Daniel Kunth and astronaut Thomas Pesquet received a warm welcome during their presentations at the Montpellier conference on 5th April. They both emphasized the importance of the space industry as a job provider and insisted on the need for training. They also answered numerous questions from an audience ranging from 7 to 77 years of age. Thank you Daniel and Thomas for sharing your enthusiasm and experience with us!
2017
19/10/2017 - Congratulations Camille and Thomas!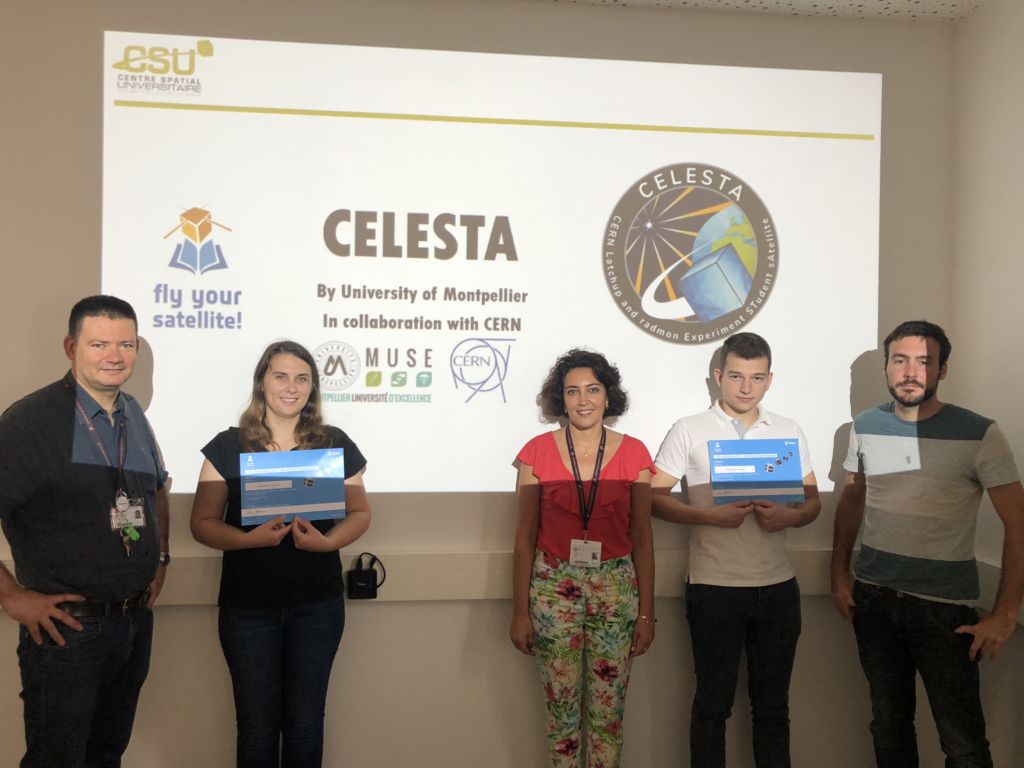 Our interns Camille Cambon, today a PhD student with the LMGC laboratory and Thomas Falanga who is completing a degree at Nimes Polytechnic, have both been congratulated by ESA for taking part in the CELESTA CDR (Critical Design Review) within the Fly your Satellite program. Well done team!
23/6/2017 - Robusta-1B lift-off
Lift-off!!!!
Launched by an Indian PSLV rocket from India.
3/5/2017 - The CELESTA Team is selected to join the 'FLY Your Satellite!' Program of ESA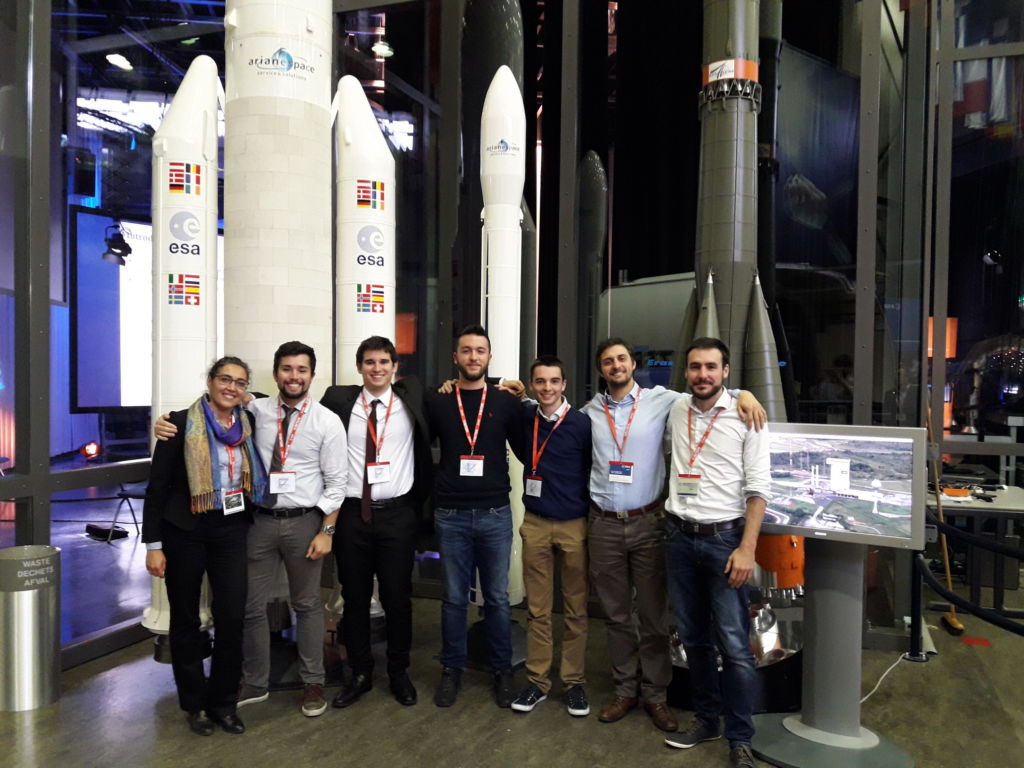 One of the most prestigious European projects that the CELESTA Team has been selected to take part in is the 'FLY Your Satellite!' Program of ESA Education Office.  Our students will be able to follow ESA courses and workshops and to receive technical support from ESA experts. CELESTA will also be launched free of charge from the ISS in 2019 thanks to this collaboration.