Everything you have ever wanted to know about nanosatellites
What is a nanosatellite?
A nanosatellite is a small-size satellite with a weight of 1 to 10 kg. The nanosatellite developed at the University Space Center are CubeSat-type nanosatellites; they have the shape of a small cube.
Nanosatellite of the 1U CubeSat class
Size: 10 x 10 x 10 cm
Mass: 1 kg
Volume: 1 liter
Nanosatellites of the 1U CubeSat class orbit around the Earth in tumbling (non-stabilized mode) mode. These features make them compatible with standard CubeSat deployers which, once fitted into a launcher, can eject the CubeSats into space.
Nanosatellites of the 3U CubeSat class
Size: 30 x 10 cm (the equivalent of 3 1U-CubeSats piled up)
Mass: up to 4 kg.
These 3U modelscan use attitude control systems (ADCS) to turn their solar panels towards the sun, observe a particular point on Earth or in space and point their antennas towards their ground station.
What is the function of a nanosatellite?
Compared to big commercial satellites a nanosatellite is a small-size satellite allowing us to test new space technologies quickly and cheaply as well ascollecting data (for Earth observation for example). Once the new technology has been tested in space on a nanosatellite, it can be implemented on bigger satellites with little or no risk.
As for cellphones, miniaturization will allow us to put more and more sophisticated technology and applications into a small volume.
A CubeSat contains a scientific experiment called the "payload" and the rest of the satellite, which allows it to work and to run the experiment, is called "the platform".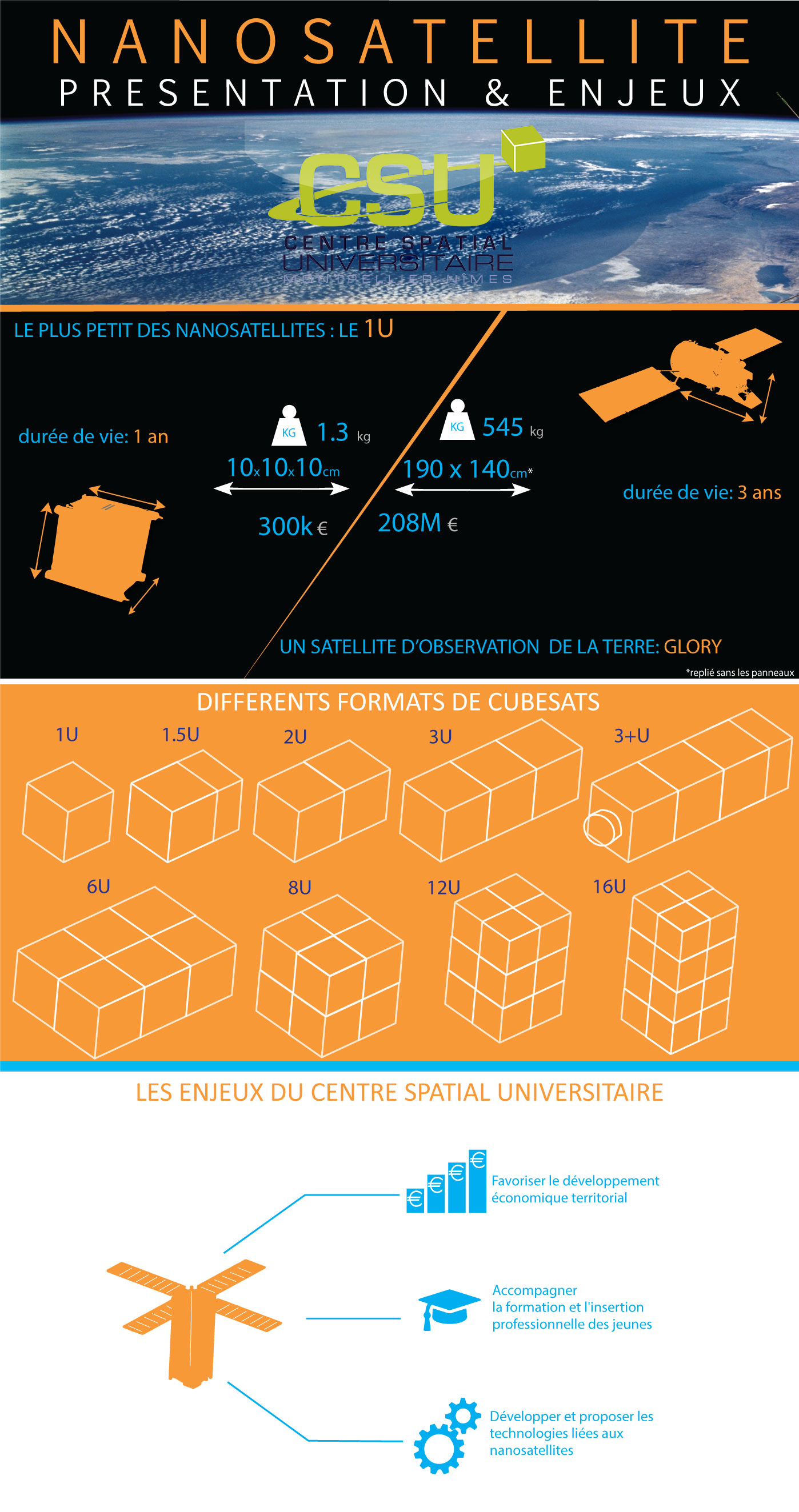 THE PLATFORM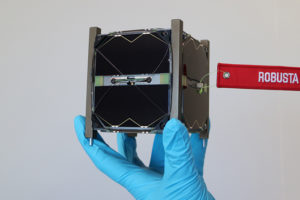 The Platform is a set of components allowing the satellite to work: its mechanical structure, the on-board computer or OBC (the brain of the satellite) the power generation and power storage system or EPS (PV cells, battery, power management board…), a telecommunication system (antennas, emitter / receiver…) etc…
Some CubeSats, the 3U models in particular, also have an attitude control system to perform detumbling and pointing.
THE PAYLOAD OR SCIENTIFIC EXPERIMENT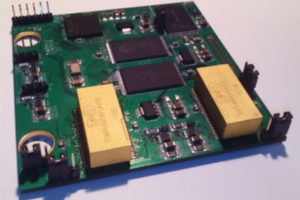 The Payload is a piece of hardware placed in the platform which will carry out a specific experiment in accordance with the mission of the satellite (testing the resistance of electronic components to radiation, data transfer, observation …)
SURVIVAL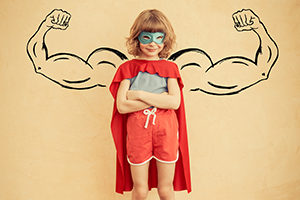 Space is a hostile environment in which the satellite must survive throughout its mission. After being submitted to strong vibrations at take-off, it has to withstand high temperatures in sunlight and extreme cold in darkness, survive very aggressive radiation and all the constraints of space vacuum.  These constraints prevent thermal exchanges through convection and produce harmful degassing effects (e.g. the smallest air bubble trapped in the glue sticking the PV cells might blow up and break the cell).
SELF-REMOVAL AND SUSTAINABLE DEVELOPMENT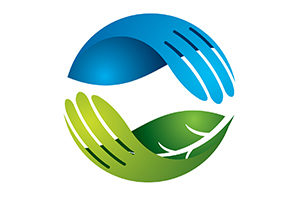 Once its mission has been accomplished, or in case of a breakdown, a satellite cannot remain in space as debris which might damage other satellites or cause pollution. It has to fall back to Earth and burn in the atmosphere. All our satellites are approved by the French LOS law which guarantees this aspect of space operations.