Leader of a nationwide initiative in favor of university satellites
Our success as the first University Space Center in Montpellier has generated a lot of enthusiasm and other university space centers are emerging in France.
We are proud to have initiated this movement and are looking forward to future collaborations with our national counterparts.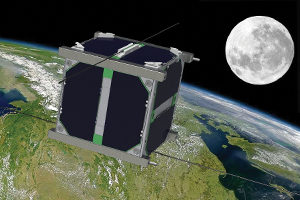 First building in France entirely dedicated to nanosatellite engineering
The objective of this project was to gather together all nanosatellite-related equipment, facilities and people, (researchers, trainers, professionals, etc…), and then to place students at the heart of this system.
The construction of the building was financed by the Occitanie Pyrénées Méditerranée Region.
The CSU is a place where all the researchers and students from the Montpellier University work together in close collaboration with companies such as :
And with technology transfer organizations :
The building comprises of:
A radio-communication room and control center
A dedicated CIC room (concurrent engineering center)
2 workshops
A clean room
We welcome students from all levels of higher education, various engineering (mechanical, electronic, IT…) disciplines, various non-engineering disciplines (project management, PR…) and from different social backgrounds and nationalities.